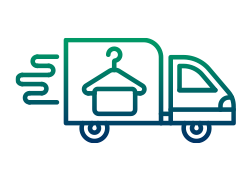 From Newport Beach to San Clemente and everywhere in between, we make scheduling simple! Have a question? Contact (949) 472-0393 or [email protected].
At Power Cleaners, we understand the importance of convenience, especially when it comes to dry cleaning and alterations. That's why for many years, we have offered free pickup and delivery services from our Lake Forest location to customers and throughout Orange County, including dry cleaning in Ladera Ranch, San Juan Capistrano, and Newport Beach.

Our team of dedicated professionals will come to your home or office to pick up your dry cleaning and alterations, and then return them to you, freshly cleaned and pressed, at a time that's convenient for you. With our pickup and delivery service, you'll never have to worry about finding time to drop off or pick up your clothes again.

In addition to our pickup and delivery service, we also offer a wide range of dry cleaning and alteration services to meet all your needs. Our state-of-the-art facility is equipped with the latest technology and staffed by experienced professionals who are dedicated to providing you with the highest level of service. We clean shirts, pants, suits, dresses, evening wear, wedding dresses—and even household items like area rugs, comforters/bedding, pillows, curtains, and more. Our cleaning process is gentle yet effective, ensuring that your clothes come out looking fresh and clean. We also offer alterations including hemming, patching, and more, so that your clothes look like they were made just for you!

We take the environment seriously. This is why we use eco-friendly cleaning solutions that are safe for both your clothes and the planet. Realizing we are all value-conscience consumers, we offer competitive prices and exceptional customer service. Our friendly and knowledgeable staff is always ready to answer any questions you may have and help you choose the best services for your needs.

Thank you for choosing Power Cleaners for all your dry cleaning and alteration needs. We look forward to serving you with our free pickup and delivery service in Lake Forest, Mission Viejo, Irvine, Ladera Ranch, San Juan Capistrano, Newport Beach, and the surrounding areas.

Get coupons in your inbox.